Infection prevention is everyone's business
Upholding hygienic standards with Vileda Professional
We need to acknowledge the fact that infection prevention is everyone's business. It is not solely in the interest of healthcare professionals and care workers to have a
clean and disinfected environment
. We all need to do our part in any sector and
we all play a vital role
when it comes to infection prevention and keeping people safe.
In the absence of an approved vaccine or therapeutic treatments, our behaviors and practices become the social vaccine that helps protect us and those around us from the spread of infection.
Infection prevention looks at all activities aimed at
breaking the infection chain
. This is important for any hygienic cleaning process to
protect everyone who enters a building
, because germs do not move by themselves. They are dependent on indirect transmission (people touching surfaces), direct transmission (people coming into contact with each other or animals) as well as other transmission routes such as coughing, sneezing, re-dispersion and re-suspension from floors due to foot traffic, or even sharing of food.
Working safely in all sectors
has increased in recent years. However, now is the time to
refresh cleaning guidelines, measures and equipment to significantly reduce the risk of transmission
in your facility. Take a look at these important aspects:
Cleaning frequency
Cleaning protocols
Cleaning equipment
Personal hygiene measures
Vileda Professional offers you important guidelines and tips on infection prevention and how to uphold proper cleaning standards for improved industrial hygiene.
Infection control with Vileda Professional solutions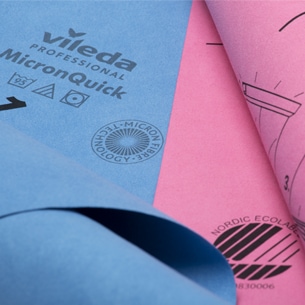 Infection control with Vileda Professional solutions
Microfiber expertise
Advances in technology and materials have the power to change many aspects of our lives and make infection prevention possible for everyone. Microfiber has had an unrivaled impact on your cleaning process. However, microfiber is not a one-size fits all solution. The composition, thicknesses and blends are the secret to consistent high performance (up to 99.99% bacteria removal) and low friction across a variety of surfaces. To clean critical areas or to remove infectious contaminants we recommend using single-use, disposable cloths. These cloths can then be thrown out immediately after use, which further reduces the risk of contamination.
Find out more about the quality of our products, when to use which cleaning method and how you can ensure infection prevention with Vileda Professional.
Our concepts for a clean and safe facility